Forget About Public likes, check out these trusted Well Paying Online Jobs in Kenya! #AskMoseax
1.Make Money in Kenya with iWriter Online Jobs
It is easy to make money on iWriter. Most online freelancers begun their work, and earned their first dollar on iWriter.
It is easy to join the job site. This is because you just go to the sign-up page to register on iWriter. Enter your names, e-mail and choose a password. You don't even need to upload a photo to complete your profile!
Beginners earn as little as $1.25 per article. The online jobs on iWriter include websites content (articles), ebooks and article re-writes. All new writers on iWriter begin at the lowest paying level: the Standard writer type. As you land and complete more jobs, you get to move up the rankings to the Premium, Elite and Elite Plus writers.
You get to select the topics you want to write about on iWriter. Furthermore, there are no limits: you can do as many jobs in a day as you want.
2. Elance and oDesk (Now Upwork)
Elance is one of the best sources of online jobs in Kenya. But you will need a bit more profile detail to sign up on Elance.
This job site is a little more complicated than iWriter. Create your Elance profile and wait for approval. You will need to upload a good photo for use as the profile photo.
You might need to edit your profile a few times, till you get the approval of the moderators.
Once approved, use the "FIND WORK" tab to browse through the available projects. Online jobs on Elance include ebook writing, content writing, re-writing articles, transcription, programming, design and multimedia, book keeping and logo design. Elance jobs are either fixed price or hourly jobs. Fixed price jobs are more flexible since you only have to submit your work before the agreed deadline.
There are jobs for every speciality on Elance: Romance writing, graphic design, website integration etc. The competition is very high though, and you should submit as many proposals as you can to increase the chances of landing a job.
Elance has an escrow protection system that shields freelancers from payment defaults by requiring job owners to provide funds into Escrow for fixed rate jobs. This means you can get paid for your work even if there is a work related dispute after submitting a completed job.
3. Guru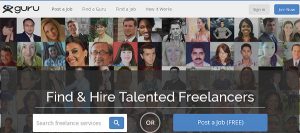 Get the latest online jobs in Kenya on Guru. When you register an account on Guru, you specify whether you are looking to hire or find work.
Just as with iWriter and Elance, registration on Guru is free and easy: just enter your names, e-mail address and choose a password to create an account.
4.Truelancer
Truelancer has web developers, content writers, SEO experts and many skilled freelancers in other fields. Truelancer. The jobs site is free to join for job seekers.
The steps to make money on Truelancer are similar to those on Elance and iWriter: Join, submit job applications for available projects, complete work and get paid.
5. Freelancer Online Jobs in Kenya
Join Freelancer for the latest online jobs in Kenya. Freelancer is one of the oldest online job sites.
There are many Kenyans earning a living through Freelancer and the other online jobs websites described above.
This job site is free to join, after which you may bid for available projects. Just as with Elance, you may take an online quiz (paid) to boost your qualification. Freelancer has all types of jobs: ranging from the usual content writing jobs, ebooks, design, product descriptions, programming and multimedia.
1433total visits,1visits today