Need Bitcoins? Here Are Best Places To Buy Bitcoins Online Instantly and Securely
Bitcoins are faster and cheaper than other global money transfer platforms, but to use the technology, one needs to know where to buy Bitcoins online.
Bitcoin is a peer-to-peer money transfer technology that enables people throughout the world to send and receive money. There are no banks or any other intermediaries involved: one Bitcoin user can send Bitcoins to another user directly and anywhere in the world.
The recipient can get their cash through mobile money services such as M-pesa Kenya, and using a local service such as BitPesa to move the received cash into a mobile wallet.
The Bitcoin system is open-source and publicly owned: No single person or organization owns or controls the money transfer system.
The advantages of Bitcoins include fast peer-to-peer transactions, ease of sending and receiving money world-wide, low processing fees and integration with mobile money networks that are hugely popular in Africa and Asia.
To send Bitcoins, the sender needs to have Bitcoins in their account. These are some of the best places where to buy bitcoins online.
Best Places Where To Buy Bitcoins Online
Coinbase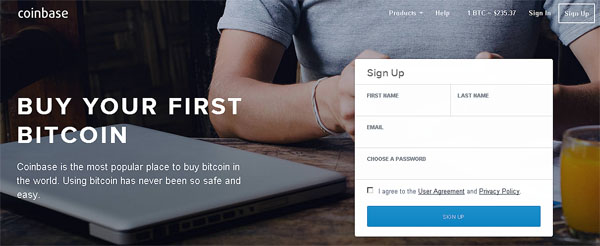 Coinbase is one of the most popular places to buy bitcoins online in the world. The Bitcoin wallet allows you to buy and use Bitcoins safely online. To Use Coinbase to buy bitcoins online, just create your account and convert your currency to Bitcoins.
Use Coinbase to send Bitcoins money to local banks in over 24 supported countries, with a low 1% exchanging fee when sending Bitcoins. Receiving Bitcoins via Coinbase is free.
Trucoin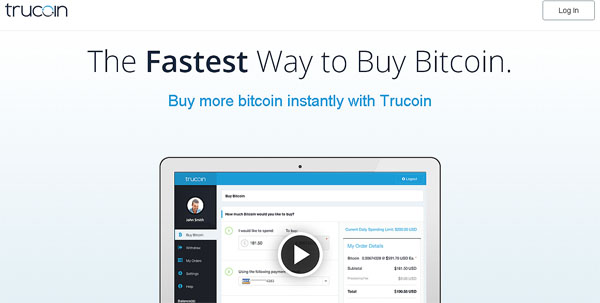 Trucoin enables you to buy bitcoins instantly and online. You need to create a Trucoin account, add your Visa or MasterCard and then you can buy and receive Bitcoins instantly.
Trucoin is one of the safest places where to buy bitcoins online: they have bank-level security and one of the highest server uptime rates for continued accessibility.
BitBargain

BitBargain is one of the best places where to buy Bitcoins in the UK. The BitBargain system is secured through continuous quality checks and rules of online conduct to guarantee satisfaction for every Bitcoin seller and buyer. One of the advantages of Bitcoins technology is the speed of money transfer, and BitBargain allows you to sell online Bitcoins sellers in real time. Text message notifications ensure instant responses between sellers and buyers.
BitBargain is easy to use: the website even has a tutorial on how to buy, sell and transfer money using Bitcoins. You can initiate a Bitcoin purchase and finish the transaction in under 8 minutes.
QuickBT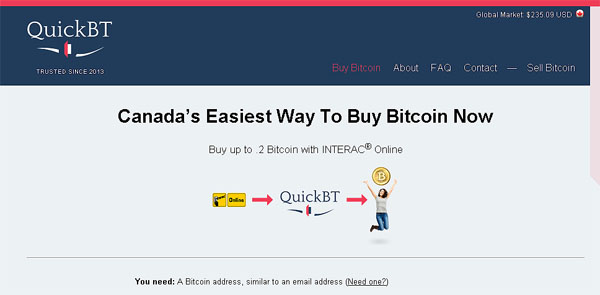 Looking for a place where to buy Bitcoins online in Canada? Try QuickBT. All you need to buy Bitcoins in Canada with QuickBT is a Bitcoin address, which is similar to an e-mail address. The QuickBT system uses your INTERAC online bank account to send Bitcoins fast and securely.
With QuickBT, your transaction is completed within minutes, the prices and rates are competitive and the platform is secure and fully compliant with Canadian laws and regulations.
CoinLoft
CoinLoft is one of the top websites where to buy Bitcoins online in Australia. To use CoinLoft, one needs to have a Bitcoin wallet.
Like all money transfer systems, buying, selling, sending and receiving Bitcoins can be complex for beginners, but CoinLoft has a Bitcoin guide. More information on Bitcoins can be found in their Bitcoins FAQs.
Like with all Bitcoins technology providers, you can't reverse your Bitcoin transaction. To send Bitcoins with CoinLoft, buy their Bitcoins and pay by depositing cash into their bank account. The Bitcoins you have bought are accessible from your Bitcoin wallet, from where you can send, transfer to other Bitcoin users or make payments online.
BitPesa

BitPesa is another secure place where to buy Bitcoins online. Individuals and businesses can use BitPesa to buy Bitcoins in Kenya, in addition to sending Bitcoins money to Kenya and Tanzania. The recipient receives the money in their local currency, and have an option to receive the cash through M-pesa Kenya, Vodacom Mpesa in Tanzania, or via the other mobile money networks (Orange, Airtel, Tigo etc).
BitPesa charges a 3% transaction fee, which makes it one of the cheapest ways to send money to Kenya online. To use BitPesa to send Bitcoins to Kenya, you can buy Bitcoins using M-pesa or from the other sellers mentioned in this article.
You can also buy Bitcoins using your bank account and an online Bitcoin exchange. Then follow the BitPesa guide to send money to Kenya and Tanzania using Bitcoins. These are some of the best places where to buy Bitcoins online instantly and securely in Kenya, Tanzania, USA, UK, Canada, Australia and globally.
486total visits,3visits today
Kindly Give your comment or Question